I got an iPad and a Zoom!
iPad versus Tablet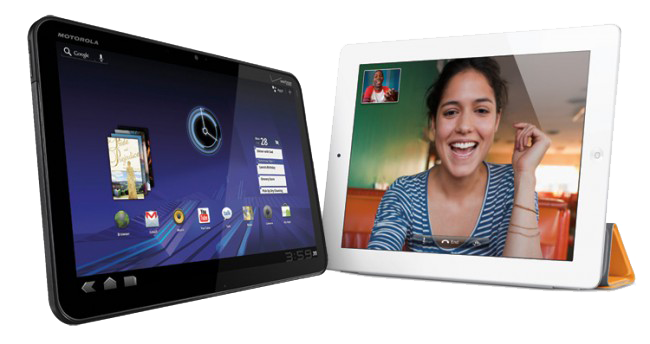 « Dude! I got an iPad! »
I set it up and it is off to the races. First impression of the iPad 2 was it is classy and sophisticated. It's quick and clean. So, after setting it up, I let my wife take over. She played with it and messed around with it. She sure liked the layout and seemed to suit her well.
(Click the bottom right >> (arrows) for full story!)
iPad versus Tablet
When I asked her about the iPad 2 versus the Xoom, she mentioned that there wasn't much on the iPad 2 whereas the Xoom had a lot more going on. But it was really pretty and looked great. I explained that she would find all those "things" in the App Store. However, she really was hoping to have a lot of those "things" already there for her. Despite that, she really likes the iPad 2.
Now, my review. The iPad 2, when you get it, needs to be connected to a computerWindows 8 Essential Shortcuts. Read more ... » which has iTunes loaded on it. After that you must setup an Apple ID. Simple enough – however, you must also provide a credit card. Now there are ways around that – BUT in the long run you must provide a credit card. Because, when you enable an Apple ID without a credit card and then activate the iPad you can not use the App Store nor the iBook or Game Center, to name a few, without having a credit card associated with your Apple ID. To me, this is a BIG negative. I'm a little more guarded about handing out that type of information to have it permanently "out there".
But, that's the same for the Xoom and all other Android devices, you must setup a Google account and provide a credit card. The Xoom itself seemed to me to have a lot more potential – it will be a much more refined device as time goes on. Is it as refined as the iPad 2 – no. BUT, it has a lot more flexibility and the reins are not so tight as Apple has made the iPad. The Xoom has a lot more freedom to take it to whatever level you want.
Now, in my opinion, I think there is room for both. There seems to be a couple of different types of users – those that don't want to mess around with anything and just want it to work and not have to do anything. Then there are those users who want the same but also want the freedom to personalize their tablet.
Both are right. So, either way, I don't think that you will go wrong or be unhappy with your purchase of either device. All these devices will become more mainstream and both will be winners.
iPad versus Tablet
Be sure to check out some of my other website designs:
Tags: iPad, Product Review, Reviews, Tablet
Trackback from your site.